a day, a week, a lifetime? You found it. Trinidad enjoys
Nature at its finest. Nature at its purist. Nature at its wildest.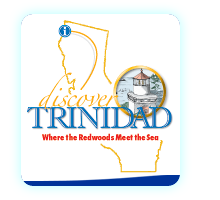 Explore seriously stunning beaches, a sparkling little harbor, and strikingly scenic trails in serene parks. Revel in sacred redwoods. After sight-seeing all day, you'll be dazzled with spectacular sunsets. . Touring, hiking, and surfing will certainly make you hungry. Charter a boat and catch some salmon, or borrow a crab-pot and crack a few. Doesn't get any fresher. Maybe just relax with some chowder and smoked salmon while checking out the scene at the pier? Offshore, you'll spot seabirds, whales, seals, and kayakers, fishermen and our famous statuesque sea stacks. These stacks are part of the California Coastal National Monument, and we're honored to be a Gateway City for viewing it. . Trinidad is a city? With less than 300 people? Trinidad is one of the oldest, smallest, and most westerly cities in California. Learn more about our City and our Greater Trinidad Area in tourAbout Trinidad. Visit us, and we're sure you'll want to play, work, and live in Trinidad too. . So come discover the naturally peaceful uniqueness of our historic little fishing village. See why some keep Trinidad their secret, and we proudly share it with you. Trinidad visitors return year after year and the happiest of them stay a lifetime.
+ more ( i )nfo:
Eons-old, the world's tallest trees are here. Still a youngster at 600, Hyperion stands over 379 feet tall! How high will he grow in the next 1000 years? Coastal Redwoods meet the sea in two unique environments - Trinidad's and in Big Basin near Santa Cruz.

Besides sand, surf, sea and trees, we're lucky to have the majestic Trinity Alps as great neighbors. These mountains are unrivaled in both their beauty and solitude. Though the second largest Wilderness in California, this is still no drive-in park. You'll need the fortitude of a grizzly to tackle this park's trails - plan on backpacking for a couple of days. For auto-touring, Lassen Volcanic National Park is a few hours east of the Alps and a must see with its hissing fumaroles and boiling mud pots.